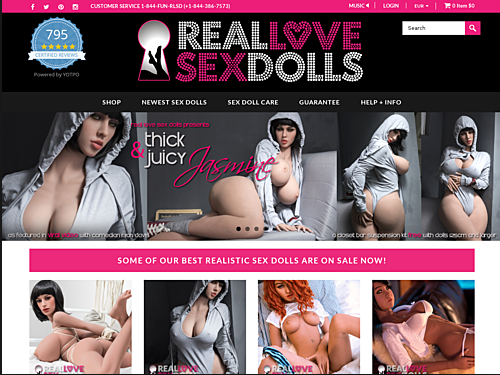 "Hello and welcome to Real Love Sex Dolls. Our custom sex dolls are here to provide the amazing sex life you have always dreamed of. The sex dolls we custom create for each client are works of art designed to give you a mind-blowing experience in the bedroom. We provide solutions to meet your fantasies through our wide range of both silicone and TPE sex dolls." — Martine, founder of Real Love Sex Dolls
Our Custom Sex Dolls
At Real Love Sex Dolls high quality is the epitome of all our products. Our custom sex dolls consist of flawless design throughout the entire production process, which creates out-of-this-world orgasms for our customers.
Our custom sex dolls are great for those who want to experiment with new sexual fantasies, bring the flame back to a marriage, or simply treat yourself to a gorgeous, realistic life-like doll; Real Love Sex Dolls is the place to be to meet your pleasure needs. Our competitive pricing allows for tickling your fancy without breaking the bank. Real Love Sex Dolls is also pleased to announce worldwide shipping is always available for free.
Health Benefits
Real Love Sex Dolls creates products to make it easy to have a healthy sex life, which in turn improves an individuals overall health. Having regular orgasms increases your immunity, improves concentration, decreases stress, and enhances your confidence. In turn, our custom sex dolls allow you to become a healthier and happier version on yourself.
Call us at +1-844-FUN-RLSD (+18443867573) or email us at sales@reallovesexdolls.com